昨今の情勢を鑑み、本日4月14日(火)より当面の間、一時休廊させて頂きます。

開催中の「杉浦邦恵 展」は、ギャラリー再開後に、会期を延長して展示を続けたいと考えております。誠に残念ではございますが、お越し頂く皆さまとスタッフの身の安全確保の為と、ご理解下さいますようお願い申し上げます。

ギャラリー再開時期につきましては、この状況が沈静化した段階で、改めて再開のご報告をさせて頂きます。

安心・安全な状況の中で皆さまをお迎え出来る日が一日でも早く訪れることを心より願っております。 くれぐれも皆さまご自愛のうえお過ごし下さい。

尚、休廊期間中のご連絡、お問い合わせ等は下記の連絡先へお願いいたします。

メールアドレス:mail@artozasa.com







<営業時間>

11:00 〜 17:00

*土曜日は完全予約制にてオープン


---
名 称  杉浦邦恵
会 期  2020年3月21日 (土)  −  2020年4月18日  (土)
会 場  ART OFFICE OZASA  京都市上京区竪門前町414 西陣産業会館207(西陣織会館西館)
時 間  火曜日  −  土曜日 11:00  −  18:00 日月休み
—
<主な出品予定作品>
「The Kitten Papers」1992年
「after Electric Dress Ap3 Yellow」2002年 他
<展覧会カタログ(予定)>
テキスト執筆  竹内 万里子
部数  300部
発行  株式会社ART OFFICE OZASA
<協 力>
Taka Ishii Gallery
<問合わせ>
株式会社ART OFFICE OZASA
〒602-8216 京都市上京区竪門前町414 西陣産業会館207
075-417-4041  / mail@artozasa.com  /  www.artozasa.com
Due to the increasing uncertainly surrounding the currently COVID-19, we have made the decision to close our gallery temporarily for the time being.
The period of the exhibition "SUGIURA Kunié" is going to be extended after the galley reopens.
We sincerely apologize for the inconvenience, but we would like to ask for your understanding in order to ensure the safety of everyone.
Regarding the reopening time of the gallery, we will report again when the situation is under control.
I sincerely hope that the day we can welcome you in a safe and secure situation will come as soon as possible.
If you would like to make inquiries during the closed period, please send us email below.
Email address: mail@artozasa.com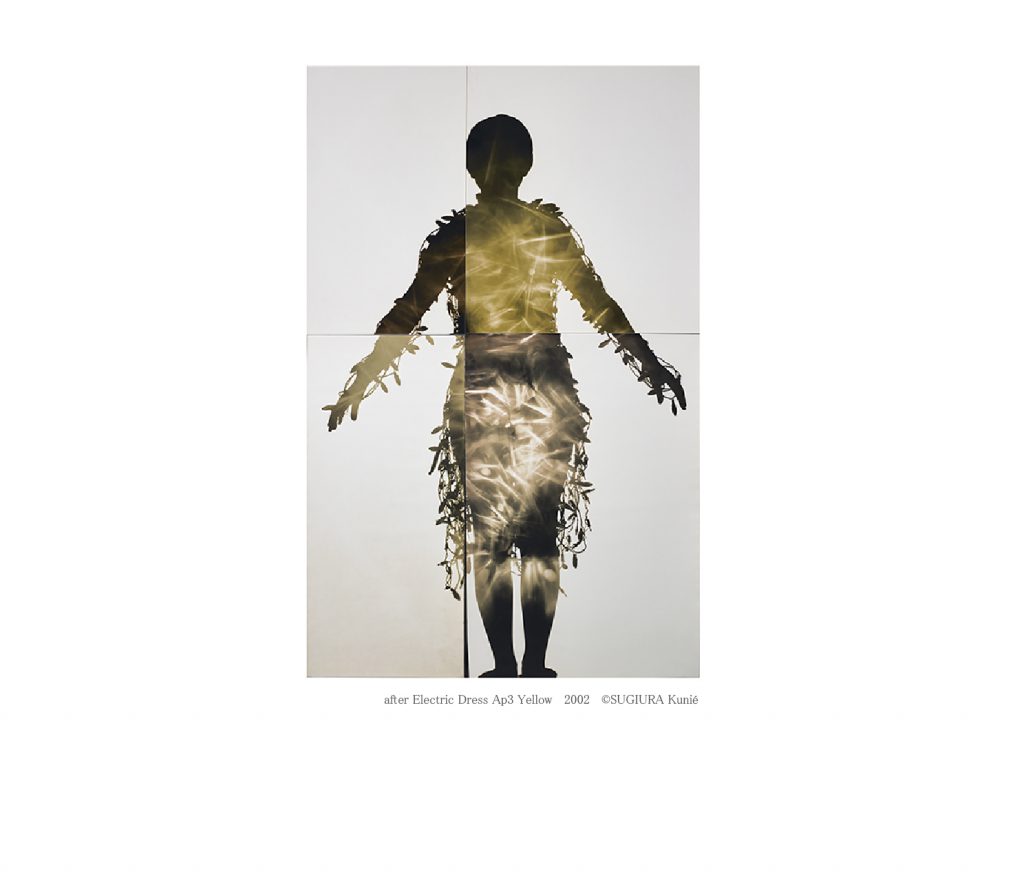 ART OFFICE OZASA is pleased to present a solo exhibition "SUGIURA Kunié".
We do hope you will be able to have a look.
---
Title       SUGIURA Kunié
Dates      March 21, 2020 – April 18, 2020
Venue      ART OFFICE OZASA  −  207 Nishijin Textile Center West, 414 Tatemonzen-cho, kamigyo-ku, Kyoto 6028216 Japan
Opening Hours      11:00am – 6:00pm   *closed on Sundays and Mondays
<Main exhibited works>
"The Kitten Papers"  2019
"after Electric Dress Ap3 Yellow"  2002
<Exhibition catalog – provisional>
Text by TAKEUCHI Mariko [Kyoto University of Art and Design]
Edition of 300 copies
Published by ART OFFICE OZASA Inc.
<Supporter>
Taka Ishii Gallery
<Contact>
ART OFFICE OZASA Inc.
207 Nishijin Textile Center West, 414 Tatemonzen-cho, kamigyo-ku, Kyoto 6028216 Japan
+81(0)75-417-4041  / mail@artozasa.com  /  www.artozasa.com