【営業時間短縮のお知らせ】

新型コロナウイルス感染症の拡大防止対策の一環として、当面の間、下記の通りギャラリーの営業時間を短縮させていただきます。また、毎週土曜日は完全予約制にてオープンさせていただきます。
ご不便をおかけ致しますが、何卒ご理解賜りますようよろしくお願い申し上げます。
 
<営業時間> 
11:00 〜 17:00  
*土曜日は完全予約制にてオープン
 




---
名 称  杉浦邦恵
会 期  2020年3月21日 (土)  −  2020年4月18日  (土)
会 場  ART OFFICE OZASA  京都市上京区竪門前町414 西陣産業会館207(西陣織会館西館)
時 間  火曜日  −  土曜日 11:00  −  18:00 日月休み
—
<主な出品予定作品>
「The Kitten Papers」1992年
「after Electric Dress Ap3 Yellow」2002年 他
<展覧会カタログ(予定)>
テキスト執筆  竹内 万里子
部数  300部
発行  株式会社ART OFFICE OZASA
<協 力>
Taka Ishii Gallery
<問合わせ>
株式会社ART OFFICE OZASA
〒602-8216 京都市上京区竪門前町414 西陣産業会館207
075-417-4041  / mail@artozasa.com  /  www.artozasa.com
NOTICE:
Due to the increasing uncertainly surrounding the currently COVID-19, we have made the decision to cancel the two events, "opening" on March 21and "Special Talk" on March 28.
Kunie will be in the gallery on March 21, so please come by if you could. Incidentally, during the exhibition, we are going to take all the necessary measures like providing adequate ventilation and disinfecting common areas in the gallery.
REQUEST:
1. Alcohol disinfectant is installed at the entrance. Please use it when you enter the room.
2. Please cooperate with cough etiquette such as wearing a mask. If you need a mask, please ask the staff for it.
3. If you do not feel well, please refrain from visiting. Thank you for your understanding.
We Kindly ask for your understanding.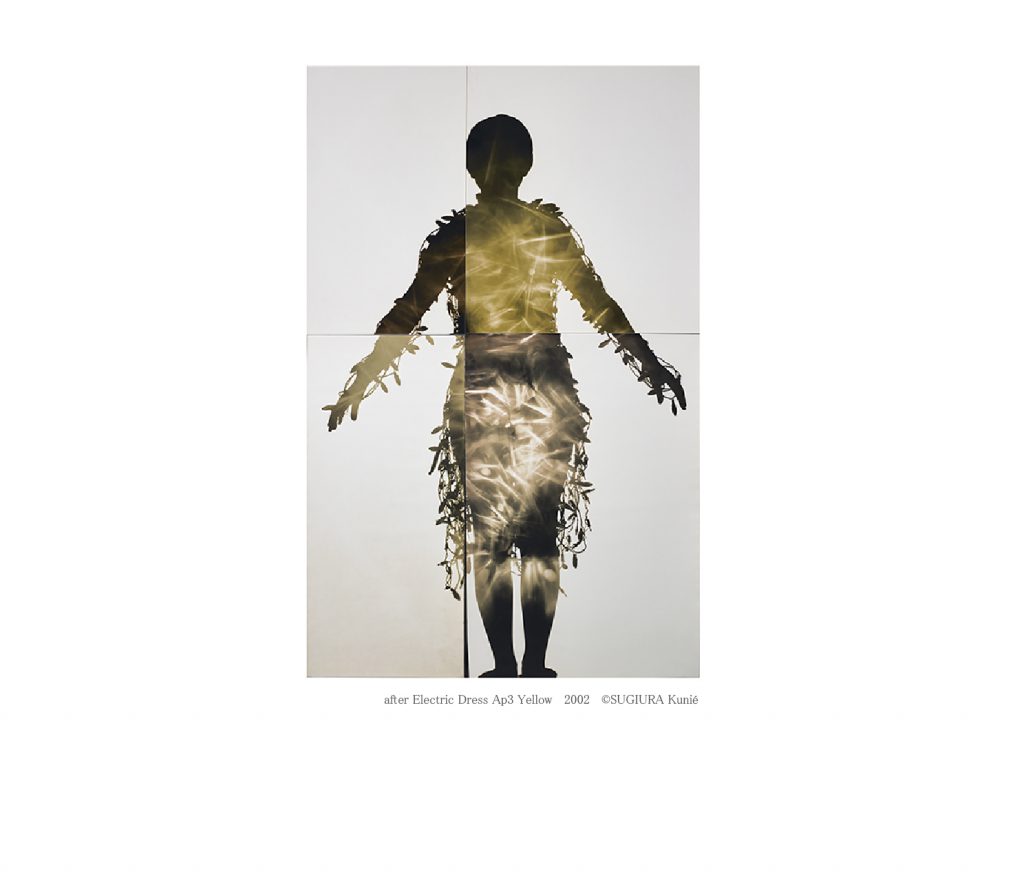 ART OFFICE OZASA is pleased to present a solo exhibition "SUGIURA Kunié". We do hope you will be able to have a look.
---
Title       SUGIURA Kunié Dates      March 21, 2020 – April 18, 2020 Venue      ART OFFICE OZASA  −  207 Nishijin Textile Center West, 414 Tatemonzen-cho, kamigyo-ku, Kyoto 6028216 Japan Opening Hours      11:00am – 6:00pm   *closed on Sundays and Mondays <Main exhibited works> "The Kitten Papers"  2019 "after Electric Dress Ap3 Yellow"  2002 <Exhibition catalog – provisional> Text by TAKEUCHI Mariko [Kyoto University of Art and Design] Edition of 300 copies Published by ART OFFICE OZASA Inc. <Supporter> Taka Ishii Gallery <Contact> ART OFFICE OZASA Inc. 207 Nishijin Textile Center West, 414 Tatemonzen-cho, kamigyo-ku, Kyoto 6028216 Japan +81(0)75-417-4041  / mail@artozasa.com  /  www.artozasa.com